If tooth decay advances to the soft inner tissue (pulp), root canal therapy performed at our Flowood, MS, practice can remove the infected tissue, preserve the healthy exterior, and eliminate the need for tooth extraction. There is a common misconception that root canal therapy is painful, but it actually eliminates painful symptoms. Dr. Danny O'Keefe takes every measure to make this procedure as comfortable and effective as possible, relieving the painful symptoms of tooth infection and restoring the health of your smile.
Do I Need a Root Canal?
Some signs and symptoms of dental infection requiring a root canal include:
Severe toothache
Prolonged sensitivity to hot or cold temperatures
Discoloration of a tooth
Gum swelling and tenderness
Blisters or other lesions on the gums
It is important to understand that an infected tooth will not necessarily present symptoms. Regular six-month checkups can help Dr. O'Keefe detect oral health issues requiring prompt treatment. Dr. O'Keefe is focused on providing conservative treatment, and root canal therapy is the most conservative approach to eliminate advanced tooth decay.
There is a common misconception that root canal therapy is painful, but it actually eliminates painful symptoms.
Procedure
Before performing a root canal, Dr. O'Keefe uses the Root ZX Apex Locator, an advanced tool that helps him to carefully plan the procedure. As he accesses and removes tissue, he uses microscopes and lasers for the utmost precision.
Immediately prior to treatment, Dr. O'Keefe administers a local anesthetic to numb the treatment area and maintain your comfort. Once the anesthesia takes effect, Dr. O'Keefe creates an access point into the tooth so that he can remove the pulp (blood vessels, nerves, and other tissue) from the center of the tooth as well as the root canals, the centers of the tooth roots. Once the tooth is empty, Dr. O'Keefe will disinfect the inside of the tooth. Next, he fills the tooth and root canals with a rubber-like material called gutta-percha and places a temporary filling. In most cases, Dr. O'Keefe must place a crown to restore the tooth. He will reshape the tooth to accommodate a crown before taking a digital impression. Next, he will place the crown, and you can leave our office with a healthy, fully restored smile.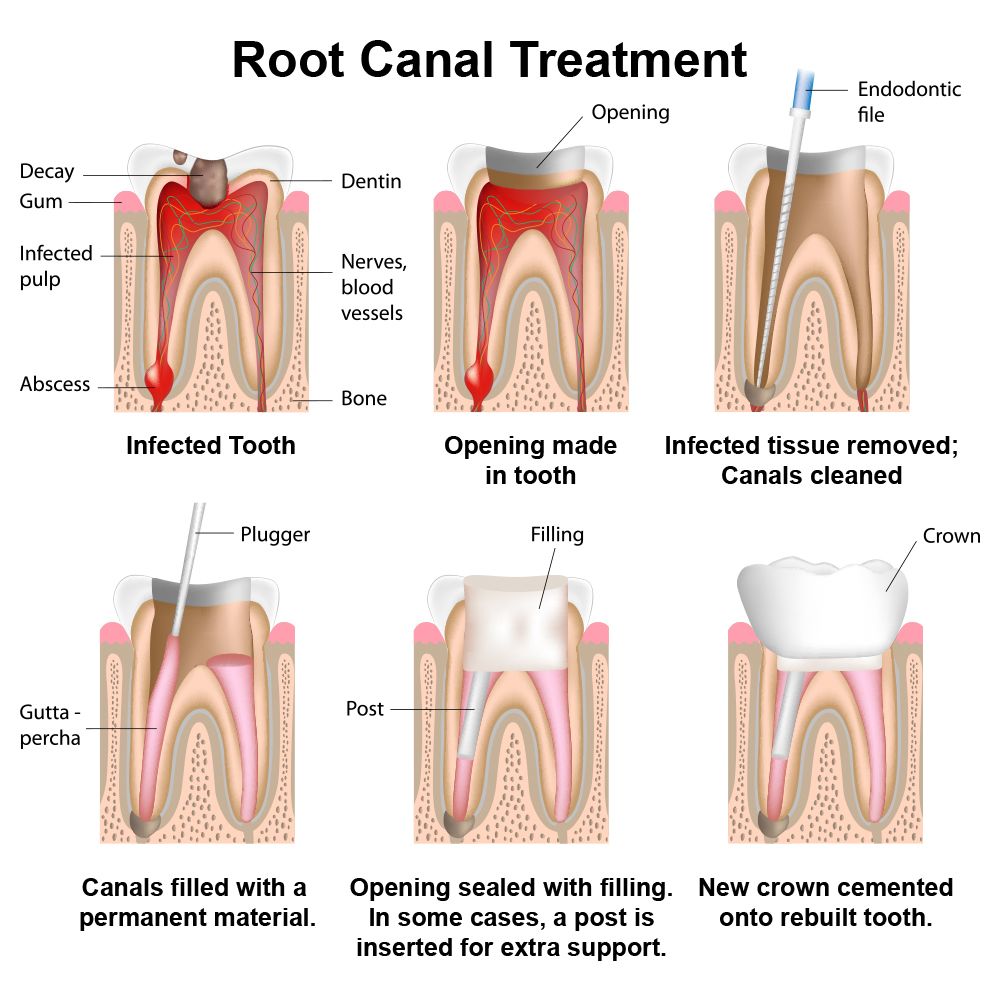 The Benefits of Root Canal Therapy
The primary benefit of a root canal is that it allows you to retain your tooth, and the preservation of natural dental tissue whenever possible is the best approach. The alternative to a root canal therapy is extraction of the affected tooth. In this case, you would need a bridge or implant to replace the missing tooth and maintain proper function and tooth alignment. These alternatives are more time-consuming and more costly than a root canal. Meanwhile, if you do nothing to address your tooth, your pain will continue, and the infection could result in jaw recession.
Schedule Your Consultation Today
Dr. O'Keefe can determine if root canal therapy is appropriate for your needs. If you are suffering with symptoms of tooth infection, contact our office today to schedule a visit. With prompt care, Dr. O'Keefe can relieve your painful symptoms and help you avoid tooth extraction.