All-on-4®: An Efficient Implant Procedure That Can Restore Your Smile in a Day
Dr. Danny O'Keefe uses the All-on-4® technique at his Jackson, MS, practice to secure a full denture with just four dental implants per arch. In many cases, the implants can support a denture immediately after placement, allowing you to experience a restored smile right away. If you are suffering with a compromised smile, or if you have been wearing traditional dentures and desire improved stability and comfort, this procedure can give you a significantly enhanced ability to chew and enunciate, provide better aesthetics, and prevent jaw atrophy. To find out if you are a candidate for All-on-4®, please contact our practice and schedule a consultation with Dr. O'Keefe today.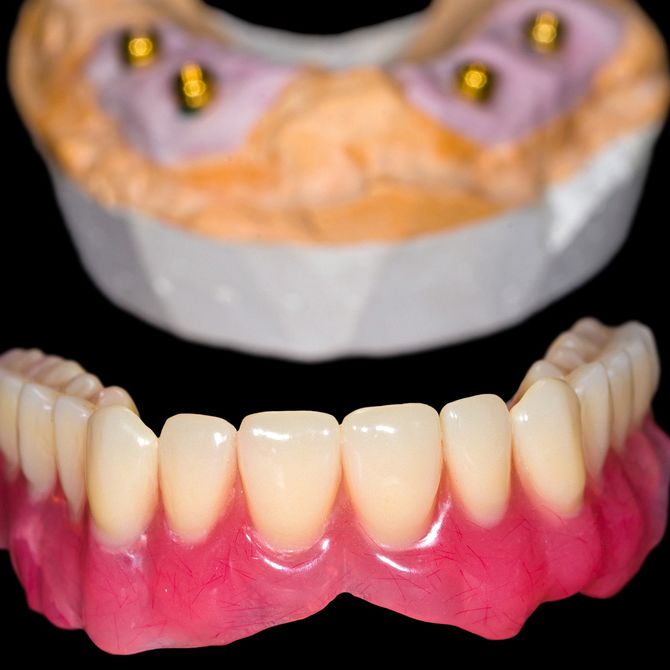 All-on-4® Candidates
During a consultation, Dr. O'Keefe will conduct an in-depth examination to determine if this treatment is right for you. In general, All-on-4® candidates:
Are missing most or all teeth in the upper or lower arch. You may also choose All-on-4® treatment if many of your teeth need to be extracted because of decay, infection, injury, or other dental health issues.
Are in good overall health, and free from any conditions that can affect your immune system or your ability to heal.
Are not suffering from periodontal disease or any other type of oral health issues. Gum disease, decay, and other conditions must be treated before moving forward with dental implants.
Have adequate jawbone tissue to provide structure and support for the dental implants. In the prolonged absence of tooth roots, the jaw will begin to atrophy, or shrink. If you have experienced some jaw atrophy, you may still be a candidate for All-on-4®. However, if you have experienced significant atrophy, a bone graft can restore lost tissue so you can receive dental implants.
May be dissatisfied with a traditional denture that fits poorly or fails to provide stability.
Are willing to maintain an implant-supported denture with excellent daily oral hygiene habits and regular dental visits.
Dr. O'Keefe will evaluate your smile, discuss your concerns, and review your dental records to decide if All-on-4® implant placement is right for you.
The All-on-4® Procedure
During surgery, we will apply a local anesthetic to maintain your comfort. If necessary, we also provide several sedation options to help you relax during treatment. Dr. O'Keefe will create small incisions in the gums and insert four titanium posts into your upper or lower jaw. The strategic placement angles involved in the All-on-4® technique allow fewer implants to securely hold a denture. In many cases, we can attach a full denture to your implants immediately following placement. Over the next four to six months, your bone tissue will become permanently fused to the implants in a process called osseointegration.
Your implants will allow you to chew, speak, and smile with absolute confidence, knowing your denture will not slip out of place. Meanwhile, dental implants are the only restorative dentistry that can halt and prevent further jaw atrophy.
Learn More about All-on-4®
You can enjoy an attractive, natural-looking smile with the All-on-4® technique. Contact us today to learn more about this procedure, or to schedule a consultation with Dr. O'Keefe.