Using Nitrous Oxide for Sedation Dentistry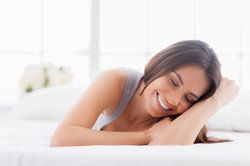 Given the anxiety and general discomfort that many patients associate with the dentist's office, it's understandable why someone may feel reluctant to undergo dental work. However, with cosmetic dentist Danny O'Keefe's commitment to patient satisfaction and comfort, these concerns can quickly be set aside. In addition to the gentle touch and advanced technology utilized at our Jackson office, we offer a variety of sedation methods to maximize comfort during nearly any procedure.
Nitrous oxide is one such sedative that allows our patients to undergo treatment with little pain or anxiety. Although every method of sedation is different, nitrous oxide is worth consideration due to its variety of benefits with very few risks. Whether used alone or in conjunction with other anesthetics, this tried-and-trusted technique has helped ease many patients' visits to the dentist.
What Is Nitrous Oxide Sedation?
Nitrous oxide, or N2O, is a colorless and odorless gas that it used as a light form of sedation during dentistry. By inhaling the gas in a controlled concentration - usually 30 percent N2O to 70 percent oxygen - patients can alleviate anxiety and discomfort in a situation that may otherwise bother them. These effects will arise soon after administering the gas and will dissipate just as quickly after the procedure is complete. When used in small doses and only occasionally, such as during dental visits, nitrous oxide does not pose any long-term risks to the body.
What Can You Expect from Nitrous Oxide?
N2O can provide multiple benefits to patients due to its temporary effects on the central nervous system. First, patients will experience an anxiolytic, or anti-anxiety, effect. At the same time, many people experience a euphoric effect, improving their mood and even making them giddy - hence the nickname, laughing gas. N2O also provides an analgesic effect, which partially numbs pain. This makes it excellent for reducing the pain from an injection of local anesthesia or from a minimally invasive procedure. However, laughing gas is rarely an adequate replacement for a true anesthetic, and is better used in conjunction with one.
Is Nitrous Oxide Dangerous?
Aside from the beneficial results of nitrous oxide sedation, very few side effects have been noted. Nausea is a small possibility, but this almost always results from an improper ratio of N2O to oxygen or when patients are administered the N2O on an empty stomach.
Emotionally, most people fare very well with laughing gas. Patients who are particularly sensitive to it may feel overwhelmed by its effects, where laughing may turn to crying or lightheadedness to dizziness. However, this can easily be avoided by the dentist administering the concentration of gas in gradual increments, stopping at a level that is appropriate for you.
Who Is a Candidate for Nitrous Oxide Sedation?
As long as someone can breathe through his or her nose to inhale the gas, that person is a viable candidate for nitrous oxide sedation. Nitrous oxide can be used alone or combined with a more powerful anesthetic, depending on the extent of treatment needed. When N2O is used on its own, patients benefit from soothed nerves, both mentally and physically. This can help patients who normally suffer from dental anxiety, younger patients who are apprehensive, and patients who are otherwise concerned with a minor procedure.
Alternatively, N2O works well when used prior to local anesthesia, as it can make the injection painless and virtually unnoticeable. This can be particularly useful for patients undergoing oral surgery such as implant dentistry, and the sedation can be continued throughout the procedure to truly ensure one's comfort.
Learn More about Sedation Dentistry
Your comfort is one of our primary concerns, and our dental practice is happy to offer a variety of anesthetic and sedation options that are appropriate for you. For more information on sedation dentistry and the services we provide, contact our office today.
Related to This