Over-the-counter vs. Professional Teeth Whitening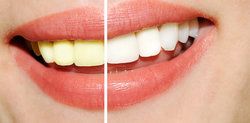 A bright smile is universally recognized as an attractive feature, in turn boosting a person's confidence and self-image. It's also one of the primary cosmetic goals for our Jackson patients, as tooth discoloration is a common problem. There are a variety of ways to achieve a white smile, including professional treatment and store bought products. Although both of these methods can improve the color of your teeth, the advantages of a professional teeth whitening procedure can be well worth the investment.
Over-the-counter Products
There are many brands and types of at-home whitening treatment. From whitening strips to gel-filled trays, paint-on whitener, toothpaste, mouth rinse, and gum, people are faced with an assortment of options. Although some products - namely, whitening strips and trays - can produce noticeable results, there is only so much they can accomplish. This is because over-the-counter treatment is only allowed to have a certain percentage of whitening agent (usually hydrogen peroxide), resulting in a relatively small change in your smile. Although they may be inexpensive and convenient, these products cannot produce the significant results achieved from professional whitening gel.
Store bought whitening products can also have frustrating complications. Whitening trays, for instance, are often a poor fit. This can lead to discomfort, irritation of the gums, and uneven distribution of gel over teeth. If patients seek additional treatment to compensate for their dissatisfaction, they may end up eroding the enamel of their teeth from over-bleaching. Rather than risk the appearance and comfort of your smile with these products, consider the benefits of a single professional whitening session.
Professional Teeth Whitening
To effectively brighten your teeth by multiple shades, our cosmetic dentistry office offers Rembrandt® teeth whitening. By coming in for a consultation, you can learn which whitening method will be best for you and what you can expect from treatment. In a single in-office whitening session, you can achieve significantly whiter teeth with virtually no risks. There are numerous benefits to a professional whitening procedure:
Improved results: Professional whitening gel uses a higher (but safe) concentration of hydrogen peroxide, removing a greater degree of surface staining and possibly some intrinsic stains as well.
Proper application: Your dentist can ensure that the whitening gel is applied properly and evenly.
Less gum irritation: With a customized tray or professional gel application, whitening gel is less likely to come in contact with the gums and irritate them.
We also offer take-home whitening kits for patients who prefer to perform the treatment on their own schedule. At-home treatment functions similarly to over-the-counter whitening trays, but with superior results. Although these kits require multiple whitening sessions, as opposed to a single in-office procedure, each application of gel contains less hydrogen peroxide. This can be a good compromise for patients who want the effects of professional whitening but have sensitive teeth that may become overly irritated from our in-office treatment.
Additional Whitening Options
When it comes to tooth discoloration, patients must also take into consideration the type of stains present. Although surface stains from food, drink, and tobacco can be reduced through whitening gel, deeper stains may require other treatment options. Stains from trauma or medication, for example, are more easily covered than removed. Dental bonding and porcelain veneers are both common and effective ways of concealing stubborn stains and similar imperfections.
If you are looking to fix any deep stains as well, a consultation with Dr. Danny O'Keefe can help you determine an appropriate method of treatment. A combination of teeth whitening and restorations may be an optimal way to give you a balanced, brilliant smile.
Learn More about Your Whitening Options
When it comes to teeth whitening, you truly do get what you pay for. Learn how professional treatment can help you remove years of embarrassing discoloration. Contact our office to set up an initial consultation.
Related to This